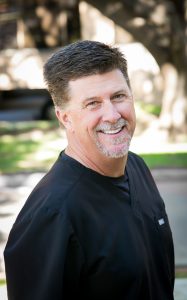 Dr. Ted Hume is a proud Texan who received his dental degree from Baylor College of Dentistry in 1995 after attending Texas Tech University and earning a Bachelor of Science from Southwestern University. He has been practicing in the Dallas area for 25 years and currently serves as the team dentist for the athletic department at Southern Methodist University.
He is a member of the American Dental Association®, Texas Dental Association, Dallas County Dental Association, Chicago Dental Society and The Academy Sports Dentistry. He has also completed 80 hours of training in Nobel Biocare implants and has been awarded one of the best dentists in Dallas in 2022.
To best serve his patients, Dr. Hume and his team always put quality patient care and treatment at the forefront of everything they do. He has built a team of professionals who all share the same vision of always doing the right thing by treating people like family and working hard to make visiting the dentist a comfortable and relaxing experience.
He and his wife, Jessica,have three children, Courtney, Caroline and Redman. Outside the office, Dr. Hume likes to play golf, fish, cook and go camping. He is also a two-time world-champion chili cook and is very proud of this accomplishment.